Download Instructions For Windows
Please follow every single instruction precisely. If it doesn't work after setting it up, please follow the instructions again.
– Right click the correct version for your computer below:
Download Bitcoin Builder for Windows
Download Bitcoin Builder for Ubuntu Linux/Raspberry Pi
– Select "Save as…"
– Navigate into your C:/Program Files folder (On Windows) or just, create a new folder titled "PowerTrader" or anything you like.
– Open this new folder, save the file there. Don't move the file from this location once things are fully setup or you will have to set it up again.
– Activate your PowerTrader Subscription by going to the Dashboard page and purchasing time.
Please allow about 5 minutes for our system to process your payment. You can refresh this page and if you see the number of days you have purchased up at the top then your subscription has been activated. Once your subscription has been activated, you can move to this next section: API and bot setup.
– Open your file explorer and navigate to the folder where the bot file was saved
– To start Bitcoin Builder, double click the exe file. A black window will pop up asking for your PowerTrader username.
Linux/Raspberry Pi/DigitalOcean One Time Setup Commands
Enter these commands into your terminal one at a time:
screen -S btc
wget https://powertrader.net/wp-content/uploads/2021/01/PowerTraderBTCBotLinux
chmod u+x PowerTraderBTCBotLinux
./PowerTraderBTCBotLinux
After entering the last command above, Bitcoin Builder will start up.
DO NOT USE THE screen -S alts COMMAND MORE THAN ONE TIME!!!!
Linux/Raspberry Pi/DigitalOcean Commands
You will commonly use these commands after you have done the One Time Setup Commands.
To return to the 'screen' you Started with the screen -S alts command from One Time Setup:
screen -r alts
To back out of the 'screen':
Hold down CTRL while pressing 'a' and then let go of the CTRL button and press 'd'
API Setup Instructions
– Start Bitcoin Builder
– Type your username, then press Enter.
– Enter your PowerTrader password
– After successful login, it will ask if you want to use saved API info.
– Type N
– Press Enter
– Now you will open a browser window, and go to futures.kucoin.com/api/create
– Login if you are not already logged in
– If you have never created an API key for Kucoin Futures, you will have to deal with some one time security stuff on this API page, as well as enabling futures trading. This process varies from person to person so instructions for this part are not included here.
– You should see this on the API page. Fill it in.
COPY DOWN THE PASSPHRASE!!!!!! YOU WILL NEED IT FOR THE BOT: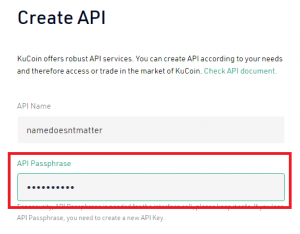 – After that, scroll down and check General and Trade permissions, and No IP Restriction, then hit the Next button.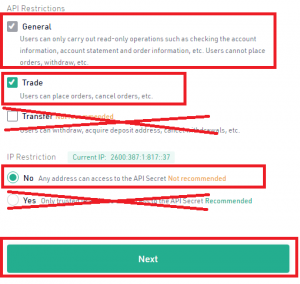 – Do the security stuff.
– Copy down the Key and Secret. You will need these for the bot. Make sure you get the Secret NOW because you will not be able to see it again.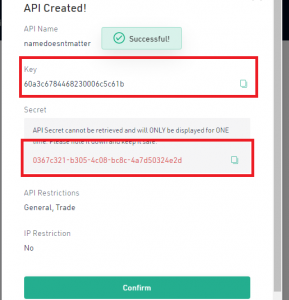 – After you have copied down the Key AND Secret, press the Confirm button.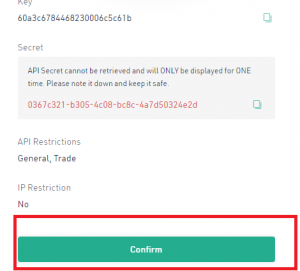 – Now go back to the bot and enter in each API thing as it asks for it. Passphrase first, then Secret, finally Key.
– Once you pass that part, enter your desired bot settings, and Bitcoin Builder will start running. Next time you start Bitcoin Builder, type Y when it asks about using saved API info!
NOTE: YOU CANNOT USE THE SAME API INFO FROM COIN COLLECTOR!!!
– You are finished with API setup!
Settings Explanation
DCA Timer: Amount of minutes between each time-based DCA addition to the position.
Leverage: How much leverage to use on the trades. Low leverage is safer with lower gains, whereas high leverage can easily be liquidated but the gains are much better. Find your preferred risk/reward ratio.
Position Open Percent: This is the percent of your account that gets used to open a brand new trade position.
DCA Addition Percent: This is the percent of your account that gets used to add to an ongoing trade position when the DCA timer triggers it.
Percent between Open and Close Prices: This is just your profit margin. 
Price Range: Allows you to set the bot to only trade breakouts or dips.
– Bottom Price: Bottom price of Price Range that activates the bot to start trading. Current price must cross from below Bottom Price to above it to activate bot.
– Top Price: Top rice of Price Range that ends the trading session. The Top Price is trailing and the current price must cross from above Top Price to below it to end the trading session. 
Bitcoin Builder is nothing more than a tool. A tool must be used properly. There are always risks involved with trading and investments. You should still manage your portfolio, only run the bot when you feel it is safe to run it, and only invest what you are willing to lose. Past performance does not guarantee future results. We do not provide refunds. We are not providing investment advice. We are only providing software and subscriptions to use the software.